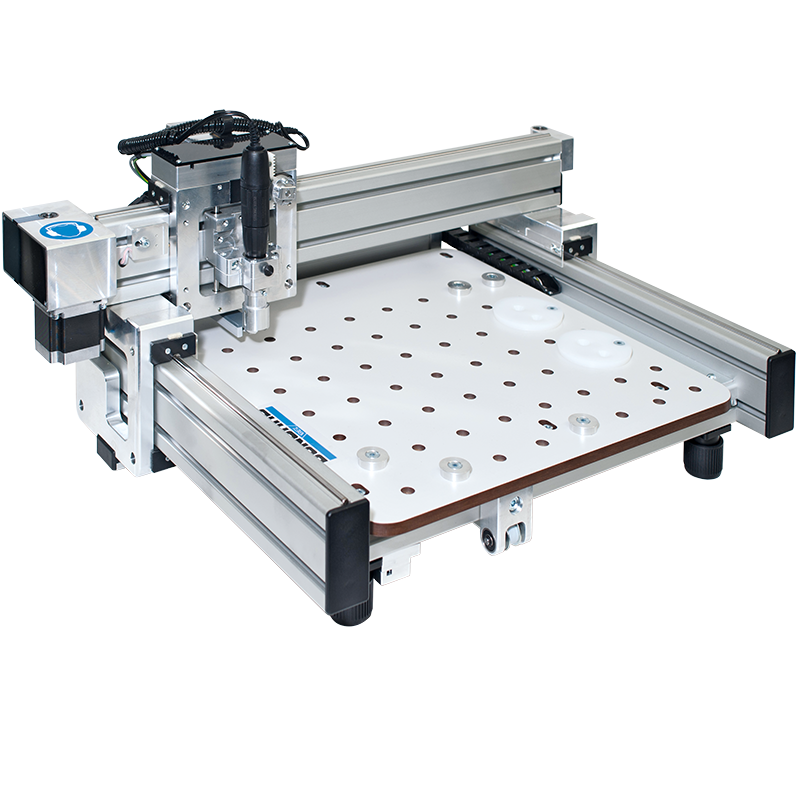 The Bungard CCD/2-Eco completes the Bungard CNC segment for the low price level. The machine is especially interesting for beginners with a low budget, because it has on the one hand an unbeatable price, but on the other hand offers the same mechanic quality and precision of all other Bungard CNC machines.
In opposit to all other CCDs, this machine is equipped with a low-cost eco-spindle which allows speeds from 5000 up to 35000 U / min. For normal everyday work such as isolation milling and contour milling of printed circuit boards, this spindle is highly sufficient. For for aluminum and non-ferrous metals however not. Of course the machine can be retrofitted at any time thereafter with a high-speed spindle.
The CCD/2-Eco is a high quality Computer Controlled Drilling machine with semi-automatic tool change. It allows direct processing of Excellon / Sieb & Meyer drill data or HP-/ GL data for the production of printed circuit boards (drilling, milling, isolation routing) and milling/engraving of plastics.
In addition to the spindle the Bungard CCD/2-Eco can be upgraded with a dispensing device for solder paste or glue, a laser exposure head for exposing photoresists and a camera for calibration and inspection tasks.
CCD-Video in DVD-Quality (.zip / 293 MB)
Thông số kỹ thuật:
Nguồn cấp:
110-240 V, 50-60 Hz + máy hút (không bao gồm khi bán hàng)
Tốc độ động cơ trục chính:
5.000 – 35.000
Tốc độ hành trình:
1 – 9000 mm/min
Độ phân giải màn hình:
0,0001mm (0,1µm)
Độ phân giải máy:
Độ phân giải bước: 1/16 (3,175µm)
Đường kính tool:
0.4mm – 3.0 mm (hỗ trợ đường kính tool lớn hơn)
Độ Chính xác vị trí:
20 ppm (0.002%)
Tốc độ định vị từng trục lớn nhất:
9000/mm/min (=150 mm/s)
Tốc độ làm việc từng trục lớn nhất:

9000/mm/min (=150 mm/s), cài đặt độc lập trên từng tool cơ bản.

Tốc độ khoan:
8.000 lỗ/giờ
Yêu cầu:
Máy tính
Cố định bo mạch:

kẹp, pin...
Lựa chọn: bàn chân không
| | |
| --- | --- |
| | CCD/2-Eco |
| Trọng lượng kg | 30 |
| Kích thước mm | 700x550x300 |
| Vùng làm việc mm | 270x325x38 |
| Thay dao | Không |